Intercom Systems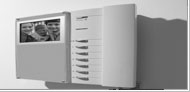 Intercom systems can be a great asset for your home and business.
In today's modern and hectic lifestyles intercom systems allows quick and effective communication for your household or business. Perfect for large areas or multiple story houses, modern intercom's allow video conferencing as well as voice communication and all from one easy to use control panel.
Today's Modern Systems
We use leading technology from Kocom, Aiphone and Bticino to provide you with the latest CCTV technologies. Modern Intercom systems allow you to communicate with every room in your house. Our modern systems will also allow you to view and talk to anyone who knocks on your front door.
Testimonials
"Paul has provided a consistently high level of service, and we are most grateful for your speedy response to the attempted burglary at our home. Without your company's immediate response to the alarm, we would have suffered theft at our home."
Mark Johnson
"Right from our initial meeting through to completion and follow up, Custom Alarm Systems provided excellent information, in-depth training, state of the art technology options and above all competitive pricing. "
Bradley Grosh
"I just wanted to write and let you know that I am very Happy with your company, the Customer service has always been outstanding. I have had several false alarms that where Handled in very professional manner. I am so relieved to know that my home and family is safe and secure when I'm away."
Patrick Pool
"I have absolutely no hesitation in recommending Custom Alarm Systems for one's home security needs."
Jessica Priston